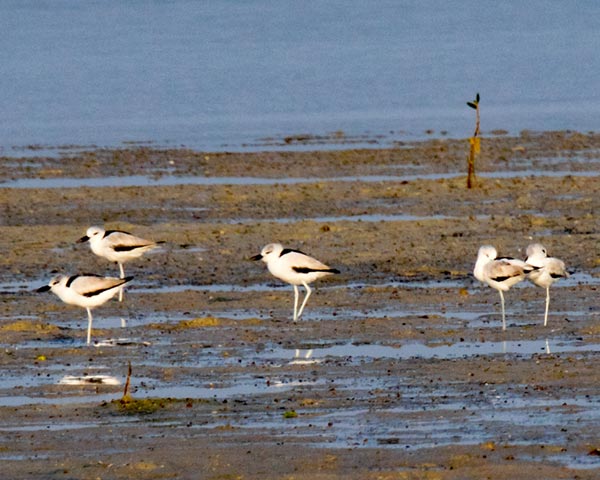 One wader had always eluded us hitherto, although we had visited several places where we may have seen one, including Madagascar and the Seychelles. However, apart from a "possible" of two very distant white birds in the Red Sea, Crab Plover remained an enigma, gradually climbing further up the wish list as time, and travels, went by. For many years the only really reliable places to see them have been the Kenya coast or Dubai (sites have recently been found in Oman also). However, when planning our trip to Uganda, I got a very good price on a flight with Emirates, whose "hub" is Dubai. We had actually passed through Dubai in the past, but determined we weren't going to miss this opportunity. Thus it was that we had a two-night stopover, giving us a full day's birding in Dubai. Whilst the main site for Crab Plover is well known, and is only an hour's drive from the airport, the Emirates Birding website states that access has become difficult over the last few years. Other sites in the immediate area are a bit "hit and miss" or require a boat to access.
In view of this, and a lack of up-to-date information, we decided to seek the services of a guide, and this report is really to highlight how successful this course of action turned out to be. We only had a day, so didn't want to waste time in traffic, or getting lost, plus we reasoned that with a guide we would see far more. Almost all the guides in Dubai are expatriate Europeans, although quite a few locals are now becoming interested, but at present numbers are low, and as most have jobs they are not available all the time. So if you wish to do a similar thing, book your guide well in advance to tie in with your flight, and accept that if you are going on a week or more's holiday you are unlikely to get a guide for the whole time. This is not a problem since many people visit Dubai on a family holiday, and a guide would be able to get you most if not all the specialities in a day or two. The downside to hiring a guide is the cost, but although £300 seems a lot for two people for one day, Mark Smiles, our chosen guide, gave us a preferential exchange rate which lowered the cost a bit. He also included in the price an excellent packed lunch so no time was wasted going to restaurants, and picked us up from and returned us to our hotel. So, no car hire (you really need 4WD) or petrol, no time wasted in drop-offs etc, and no worries about finding the sites. In fact the cost becomes very reasonable when you take that in to account, and if more than two are in the car it becomes positively cheap. The first problem in finding Crab Plovers is the extent of the mudflats, as with most waders they move out as the tide falls, so photography, at least, becomes difficult. Had we thought more about it we would have chosen a date when high tide was a little later in the day, but as it was almost an afterthought when booking flights we didn't think of it. As it was it just necessitated an early (ish) start, we were in fact quite lucky because had the tide been much later heat haze would have caused a problem.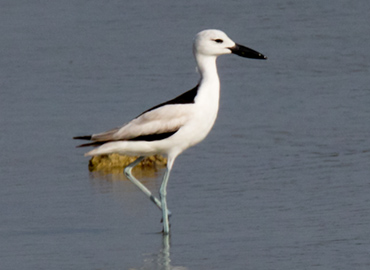 It was about an hours' drive from our hotel, and the road system was horrendous. I am sure that if you live there it's no worse than many cities, but we were completely at a loss to know where we were going and had we not had Mark I'm sure we'd have arrived at the site when the plovers were halfway to the Arabian Peninsular! In fact he asked us to avoid certain hotels since he always got lost driving away from them, so I think we might never have found the site. If you like your birding scenic Dubai is not the best place to come, everywhere seems a mixture of hotels, palaces and deserts. We found ourselves driving along a track at the edge of the Red Sea, with extensive mudflats to one side and buildings on the horizon. The proximity of royal palaces has made many areas out-of-bounds, which is another reason to hire a guide, plus I'm sure the birds move around quite a lot and a 2WD vehicle might have been at a disadvantage in some areas. This was the famous Khor al Beida, and did indeed produce the desired Crab Plover. We saw both adult and juvenile birds, a few in flight, and, most importantly for me, several close enough to photograph. Several other species inhabited the mudflats, one of my favourite photos is of a Crab Plover walking along in front of a dark-phase Reef Heron. Mark counted about forty Crabbies, as we started to call them, and we also recorded another thirteen species of wader, including many Kentish, Greater and Lesser Sand-plovers (for those liking a challenge) and six Terek Sandpipers. Later in the year we would probably have seen Great Knot, which winter here. Other birds in the area included Slender-billed Gulls, the aformentioned Western Reef Herons, Gull-billed Terns, distant Greater Flamingoes, spoonbills and a lone Marsh Harrier. The approach track was good also, many of the species seen being migrants, some of which would overwinter in the area. These included (Little) green Bee-eaters, Pied and Isabelline Wheatears, Turkestan and Steppe Grey Shrikes, Graceful Prinias and Asian Desert Warblers. More time spent in the area would undoubtedely have revealed more, but we had achieved our main objective and Mark was eager to show us more. On our return journey we saw, at close range, one of the better birds of the trip, a Greater Hoopoe-Lark. These are not an easy species to see in Dubai apparently, indeed it was a tick for Ann.
Our next port of call was Umm al Qawain, which is not really a "site" at all but is a place where Socotra Cormorant is usually easily seen, as it was on the way to our next area it was convenient. The cormorants were not exactly putting on a show. as there was only a single bird in evidence, but that was sufficient to photograph the species, not the most inspiring of even cormorants. Other birds seen were House Crows, which gives some indication of the nature of the area, although we did see a Brown-necked Raven along the road. Having seen the main objective, the order of things becomes a little hazy, Mark drove to a desert area at Al Qudra, where we visited several sites including a wetland reserve artifically created. A number of waders were seen here, including twenty Red-wattled Lapwing, with just a foothold in the Western Palearctic, more Kentish Plovers, Black-winged Stilts, Marsh and Common Sandpipers and Ruff. Large numbers of Little Stint and Dunlin contained one Temminck's Stint, whilst a Curlew Sandpiper, Little Ringed Plover and Turnstones added to the variety. Other species frequenting the wetland, all commonly seen in the UK, were Little Grebe, Grey Heron, Shoveler and Egyptian Goose. A Citrine Wagtail was the sole passerine.We left the wetland area and almost immediately came across a small flock of Arabian Babblers, which were photogenic if not exactly stunning. More elusive and camera-shy were Grey Francolin, whilst Crested Lark were common, as were Collared and Laughing Doves. A Pallid Harrier was seen distantly over the desert, and we then went "hunting" sandgrouse. Whilst really hunting these with a gun would be pathetically easy, with a camera it's a much harder prospect. Mark was expecting Pin-tailed, but instead we saw flocks of Chestnut-bellied, totalling about a hundred. Try as we might, we could not get close enough to view them on the ground most of the time, and spent much time chasing them, so all I managed were shots of distant flocks. Nevertheless, some reasonable views were had, and we left them in peace. Mark then spotted a large raptor in the sky, then another, and another, until eventually there were five. These turned out to be Lappet-faced Vultures, and were the among the first records that winter. Apparently wintering numbers have increased over the last few years, but the species remains a difficult bird to see in the Western Palearctic. Other birds were quite scarce in the desert, but we saw a few Purple Sunbirds and White-eared Bulbuls, plus another Turkestan Shrike.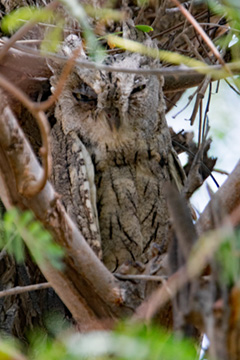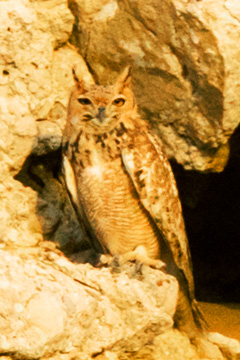 Mark had planned the day so we were then at the furthest point from our hotel, he then looked for a shady spot where we could eat the excellent lunch he had prepared. We parked in a small walled area with lots of palm trees, which was apparently a sort of retreat where you could walk in peace and solitude. It certainly lived up to this, as not many people were retreating that day, in fact no-one at all. A leisurely lunch was enjoyed from the back of the vehicle, a Shikra flew through the trees, and then Mark suggested we go for a walk. As it was very hot Ann asked what we were going to see, as she might stay with the vehicle if it didn't interest her, to which the reply was "it's not far". Obviously intrigued, we both followed. In fact it was about fifty yards, and we were beginning to wonder why we hadn't gone to see whatever it was before lunch. The reason quickly became obvious- a Pallid Scops Owl at its daytime roost! We had mentioned to Mark we would like to see this species, as there always used to be a "stake-out" in Mushrif Park, but apparently that is no longer reliable. Anyway, Mark's non-commital answer at the time meant the surprise was all the more, and it made the long-awaited "tick" all the more special. Mark left us to find the second bird ourselves, which Ann duly did, she's excellent at finding secretive species and once found a Little Bittern when only its eye was visible through the reeds! It all adds to the pleasure though, and after some time trying differing camera angles in order to get a clear shot, we were happy to move on. We had seen well everything we really wanted, so when a call came through to Mark he asked "were we up for a twitch", and we readily agreed. This resulted in a visit to Zakher Lake, where we found ourselves looking at a juvenile Common Crane, and meeting a few local birders, all of whom were known to Mark. It was apparently only about the fifth recent record of Common Crane for Dubai. The few other birds of note included Black-winged Stilts and Grey Herons.By now it was getting quite late and as it turned out we were quite a long way from our hotel, so we headed back with a few stops on the way. We were shown the re-introduced Arabian Oryx, and Arabian and Sand Gazelles, but our last stop really was the "sting in the tail".
Mark had planned to make this our last stop, but wasn't expecting too much, as the target was normally roosting in a hole in the rock until dusk. We did not want to be too late getting back as the day had started early and it was supposed to be a break in our journey home. Having seen our main objective we weren't too bothered about other species, however we're always happy to take a bonus, like most birders. Mark knew our interest in owls, and coupled with a slice of luck, we were soon viewing our second bonus of the day, a Pharoah Eagle-owl, sat at the entrance to its roost cave. Looking, to my eyes, very different to Eurasian Eagle-owl with which it was once lumped, this magnificent creature sat surveying the world, eyes wide open, presumably awaiting darkness when it could go hunting. The luck was in the fact that it was still an hour before dusk, and Eagle Owls are not known for daylight appearences, even Mark was surprised, having seen this particular bird on numerous occasions. It was right beside the main road, albeit behind a fence, but a convenient mound allowed me to get above the fence and take photographs. In this I was distracted by a Red-tailed wheatear and a juvenile Pallid Harrier, these being the last birds of the day (except House Crows, which we ignored).

Whilst many birders visit Dubai as a trip in its own right, especially Western Palearctic enthusiasts, most flights with Emirates, at least, route through there, making it an ideal stopover. This can be for one or more days depending on what you want to see, and provides an ideal break on a long flight such as Australia. In addition it is still one of the easiest places in the world to see Crab Plover, but if you want to do it alone, make sure you check the tide times as the birds may be very distant.