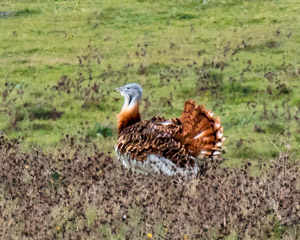 This was a short trip we undertook to aid Ann's recovery after illness, as such we weren't aiming to clean up and accepted whatever we saw gladly, without getting too upset about anything we missed. It turned out to be a trip of two halves in more ways than one, although it did demonstrate the potential of the country as one of the best and easiest destinations in Europe.
The timing of our trip was largely dictated by my work, as I had holiday to use up before April 1st. Whilst a later trip would have been better in that more summer visitors would have been around, obviously most wintering species would have left, but the big problem in Extremadura at least is that birds out on the plains are often distant, and as vegetation grows up some species, like Little Bustard and Sandgrouse, have more places to hide. Heat haze can also be a problem, particularly for photograhers, but all things considered I would recommend mid-April to mid-May as a better time for maximum numbers of birds.
We took the cheapest means of visiting, which meant Easyjet, but it's a short flight so the poor service can be overlooked. Hiring a car was easy, guiding it through the environs of Madrid wasn't, especially with confusing signposting which took us our first week to get used to. We eventually found our hotel for our first evening, which had got us out of the city so we could make a start travelling north in the morning.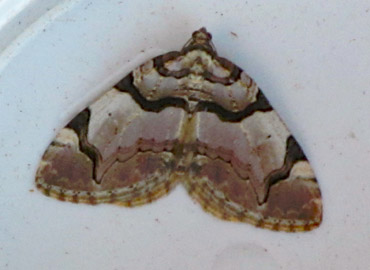 We had selected a small guest house in Berdun for our first few days, as it was convenient for Hecho Valley. It turned out to be an inspired choice since not only was it run by an English couple it was also used by several bird tour companies, so they had a knowledge of birders requirements and were very helpful. As an added bonus the food was superb by rural Spanish standards, without resorting to traditional English holidaymaker fare. Not having seen much on the drive apart from expected common species and a flyover Short-toed Eagle as we neared the village, our first evening was spent birding the grounds and generally relaxing. Common species were still the norm, although there were obviously Spotless Starlings in the area, unfortunately their favourite spot was the top of the local church steeple, in itself on top of a hill. Our guest house was at the bottom of the village just off the "main" road. A few distant raptors put in an appearance, mostly Kites and the odd Vulture, but it looked good for our next two days, especially as the weather was dry and sunny, albeit chilly in the mornings.
It turned out our hosts had an interest in moths and butterflies and in fact ran tours to that effect. Whilst we were too early for the majority of butterflies there were numerous lights around the property which did attract some moths, and on learning of our interest we were presented with several moths in specimen jars at the breakfast table. One of these was new to us, although a common enough species in England it obviously doesn't occur near our garden.
After our first excellent breakfast we ascertained the best places for Wallcreeper and Lammergeier, and set off up the Hecho Valley which was only a few miles away, looking for "a small pull-in on the left side of the road just before a tunnel". This unfortunately was where things started to go wrong.
I mentioned a trip of two halves, this first half resulted in missing our two target species, but at least the weather was good.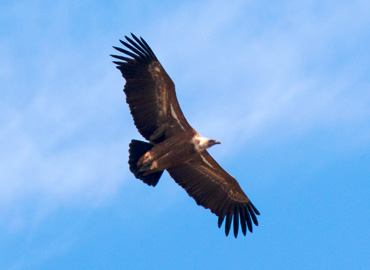 As I said it wasn't about "cleaning up" so missing the two aforementioned species wasn't a great problem, especially as we had both seen Wallcreeper before and I Lammergeier, although neither we nor our hosts could understand our lack of success. Lammergeier particularly is usually apparent somewhere in the valley but despite driving up to a fairly high level all we saw in the way of raptors were Eurasian Griffon Vultures, present in fairly large numbers and showing well in the sunshine. Whilst waiting for the Wallcreeper which never materialised, we were entertained by Crag Martins which were apparently prospecting nesting sites in the rocks around the tunnel, which actually cut through the rock at that point. The only downside of this site is that the road is narrow and there is only room to park one car. Walking through the tunnel isn't difficult as it is quite short, but just make sure there are no boy racers or would-be rally drivers using the road! This fact probably cut short the time we were prepared to spend looking, although we visited the spot two or three times whilst we were in the area, I'm sure that given longer and/or a greater level of desperation Wallcreeper would have revealed itself eventually. We were so taken with the guesthouse we resolved to return one day for another try. Our trips up and down the valley didn't produce a lot, although I saw a Blue Rock Thrush briefly and flocks of Alpine Chough were apparent high over the crags. Elsewhere in the general area we recorded Crested Lark, Buzzard, Black and Red Kites, a pair of late-migrating Common Cranes, Spanish Sparrows and Spotless Starlings (distantly). We also saw Citril Finch, which is apparently much sought-after and dipped by some, near the top of the valley.
Our time in this area wasn't just about "dips", as on our last evening the owner told us of an Eagle Owl sight only about ten kilometres away, which we duly found quite easily and settled down to wait, although we were told that, in common with many Eagle-owls, the bird(s) did not emerge until after dusk and we would probably see only silhouettes. Although we have seen several Eagle-owl species throughout the world, including two (Pharaoh and Magellanic) which were formerly lumped with Eurasian Eagle-owl, we had never seen a wild Eurasian bird. The site was a sort of natural amphitheatre, with plenty of trees against the skyline, into which the owl would fly to begin hunting at dusk. Obviously it roosted elsewhere so would only be visible when and if it flew in. We waited, and waited, it got darker, and colder. We saw a Woodcock flying over the trees but that was the only sign of life. Time after time we scanned the trees with both binoculars and scope, but in the end we turned the car round to return back to our guest-house. Still unwilling to leave we tried a couple more scans with no success, but eventually I put the scope away, started the engine and pulled on to the road. As I looked to make sure there were no cars approaching I looked at a tree which we had been giving a lot of attention, and thought "there's a lump at the top which I'm sure wasn't there earlier". I opened the window, put up my bins and saw the distinctive ear tufts of our quarry! Brinkmanship indeed! It was little more than a silhouette, but easily identified by its size and distinctive shape. Unfortunately it didn't linger long, but flew towards us and then circled round to disappear behind trees to the right. Satisfied by our sighting we then returned to our last evening meal and to prepare for our journey south the next day.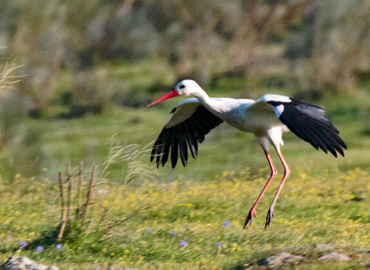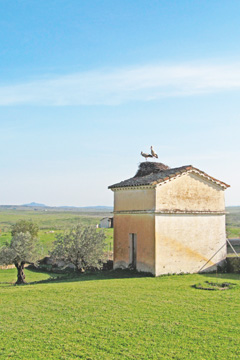 We had booked a hotel near Zaragoza to break the journey, although it would have been perfectly feasible to drive from Berdun straight to Tujillo, which was the nearest town of any size near our accomodation in Extramedura, so the following morning we did a little local birding which produced Cirl Bunting, Iberian Chiffchaff, Firecrest and Great-spotted Woodpecker. This last looked somewhat different to English birds, but my attempts to turn it in to a Middle-spotted were just wishful thinking, although they do occur in the area. An excellent lunch near where we had seen the owl the previous evening was followed by a few hours driving to a newish hotel just off the main road but in the middle of nowhere, usefully surrounded by weedy fields and scrub. There were quite a few birds in the area, again mainly common species, but Serin, Blackcap, Yellowhammer and Hoopoe deserve mention. The Hoopoe in particular put on a nice flying display in front of the camera.
After early morning birding we headed off for our second destination, a guest house called Casa Serasa, outside Trujillo on the plains which are part of Extremadura, which we reached in the afternoon. Having to negotiate a way round Madrid we did little birding, although it has to be said that there is a famous site for Dupont's Lark not far from our overnight hotel. As this wasn't a "clean-up" trip we elected not to bother as I had seen the offending species and Ann didn't want to spend potentially hours trying to persuade one to show itself. Friends of ours who visited the site in the past said they weren't too difficult, but whether that is still the case I really don't know.
As we approached Trujillo we began to see White Storks, Lesser Kestrels and other birds expected in the area, but carried on to our home for the next five nights, as most of these would be easily and better seen later. White Storks, for instance, breed on a disused outbuilding in the grounds of the hotel, we could hear (and see) their bill-clapping displays from our room. On arrival we discovered that the room set aside for us involved a number of stairs, which was a problem for Ann, but we were readily accomodated in a room which was part of another outbuilding. This was not as nice as the first room, but perfectly adequate and spacious. The only downside was that it was a bit cold, and whereas we were expecting temperatures in the 70's the weather was unseasonally inclement, indeed the day before our return snow was recorded in Madrid! Thankfully this didn't affect the birding much, and we did have many periods of sunshine, but the spring migration was held up (just like home!).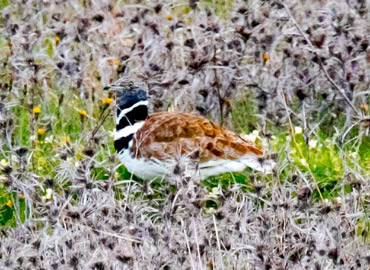 Apart from a relaxing break our main reason for visiting Extremadura was to see the specialities of the region, primarily Spanish Imperial Eagle and Great and Little Bustards. Whilst we had seen both bustards in the UK we were keen to see their displays and birds in breeding plumage in their natural habitat, the eagle would be completely new for both of us. We had armed ourselves with the Gosney guide, this was very good for specific sites but any such guide suffers from being out of date very soon after its publication, and despite efforts to update on the internet this becomes worse as time goes on. However the only real drawback we found was that all the plains species, bustards and sandgrouse are prone to wandering. In the end our strategy became one of driving the roads and scanning, we found most of what we wanted but usually not at the sites suggested in the guide. That is not to say the guide has no value, it is very good especially in other areas, but don't expect bustards to be common in the same place year on year. In our opinion there is far more pleasure in finding any bird yourself, if you prefer just bowling up and having it presented "on a plate" stick to twitching!
We first explored our immediate surroundings and then followed Gosney's guide looking for Bustards. Around the guest house we found a Red-rumped Swallow among the more common hirundines, and Spanish Sparrows and Spotless Starlings were much in evidence. Obviously White Storks were always around, and raptors frequently appeared. Every day was different although the weather wasn't wonderful, and some migration was obviously underway. A track ran down to a small stream, this was largely deserted since access was only from the property, and passed through an area with Calandra Larks, Corn Buntings and Thekla Larks, all reasonably closely approachable. As I said, Ann was recovering from illness so would often stay at our base whilst I went looking. This worked well except for one morning when I had gone out early and found a group of Little Bustards not far from the house, by the time I got Ann out there they had disappeared! If you have ever twitched Bustards in England you will be familiar with the scenario- they never seem to stay long in one spot. (I had to twitch the Great Bustards in 1987 seven times before finally scoring, and never saw them on the ground!). This is the only slight fault with Gosney's guide, it doesn't make it clear that the areas listed as good for Bustards are never the same two years running. Having said that, if you use the book as a guide to the best areas, if you don't see them at a listed site you will come across them somewhere. It's just a matter of driving the roads, as we found out on our first full afternoon when Ann (typically!) located a flock of Great Bustards in a field. After that we saw them on several occasions, including flying over the area, eventually locating a group of males showing their famous "powder-puff" displays. This is another good reason for visiting the area in March, although the migrants may be scarce, any later and the vegetation grows up in the fields and heat-haze is common, thus making Bustard viewing that much harder.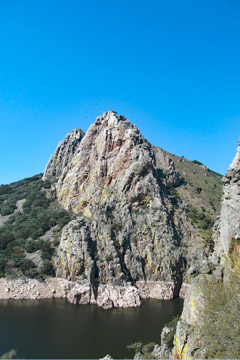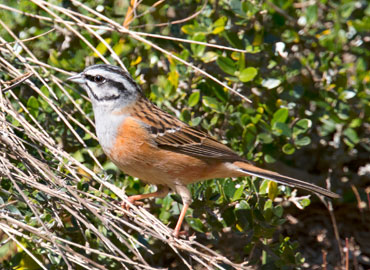 In fact we found Sandgrouse to be far harder than Bustards to locate, we only saw a flock of Pin-tailed in flight on our last evening. Despite good flight views which enabled us to determine there were no Black-bellied among them, we never saw any on the deck, but the area is huge with few driveable tracks, and sandgrouse are easily able to "hide" behind vegetation. Each day we took a different route and thus visited many sites in Gosney's book, the only day we specifically planned was a day in Monfrague National Park, which is one of the best places in Europe for raptors, and specifically Spanish Imperial Eagle. We set off fairly early so were at the first site, Monfrague castle, while there was still room in the cark park. Suffice to say the whole park attracts many tourists, and I would not like to be there in the peak holiday season! The first thing you notice at the castle, which is actually a steep 200m from the car park, are the vultures. These can be viewed from the car park, eye level views are not uncommon, especially of Griffon Vultures, which can also be seen perched just below you if you go up to the castle. Egyptian Vultures were not uncommon, plus Black Kites, and we did see distantly a possible Golden Eagle and a definite Spanish Imperial, this a young bird and too distant to be a satisfying tick. Leaving Ann to watch raptors I took a path which didn't go directly to the castle and was thus free of tourists. Not a long distance, but I did see a number of species including Black Redstart, and just above the car park on my return I photographed a superb male Rock Bunting. I alerted Ann to this, but she only managed a fleeting glimpse as it vanished into the undergrowth. We decided to move on and return later if necessary.
Following Gosney's guide the next site listed in the park was Penafalcon, this wasn't too far along the main road from where the road to the castle branched off. Penafalcon is actually a massive pinnacle of rock on the opposite side of the Tejo River, and is something of a tourist attraction in itself. It certainly attracts casual birdwatchers, and the local RSPB partner have set up a little information centre with a telescope. Parking is a nightmare, but if you're prepared to walk a bit you can usually fit the car in at the side of the road somewhere. It is well worth the effort. The pinnacle provides a breeding cliff for Griffon Vultures, and somewhat more hidden, in the wooded areas at the bottom, Black Storks. We also saw the storks coming and going across the river, usually below us which made a change from the usual views of this species. Although the distance across the gorge is a bit far for photography, flight shots were easy, and some of the vultures ventured onto the rocks at our side. Egyptian Vultures appeared from time to time, several of which were juveniles, and Crag Martins flew around our heads, plus the odd Red-rumped Swallow thrown in for good measure. Looking down to the rocks in front of our vantage point, Ann gripped the Rock Bunting back, and several Blue Rock Thrushes were in the area. We were told where to look if the local Eagle Owl was feeling showy, this rarely happens during daylight and as we had seen one the other evening we elected not to return at dusk. Having said that Monfrague is one of the most reliable areas in Europe for this species, although it is definitely a nocturnal bird.Tearing ourselves away after about an hour, we then visited the other sites in the book, all of which are on one road which crosses and re-crosses the river. If you follow a similar plan to ourselves you soon find yourself at the village of Vilareal de San Carlos, which is a convenient stop for toilets, restaurants and is quite scenic in itself. However-be warned! A family staying in our guest house visited a restaurant here, and had most of their camera equipment stolen from their car! We ourselves only stopped for a toilet break, since the village obviously only existed to serve tourists, (and rob them by all accounts!) we preferred to continue birding. Unaware at the time, we continued to the Tajadilla picnic area, where we had a brief look for raptors but decided to continue to the last site on the road, intending to visit the area more fully on our way back.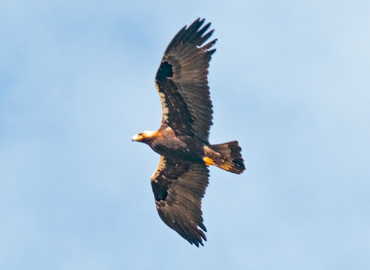 The last site in Gosney's book is Portilla del Tietar, which is a rock outcrop on the other side of the river. The river narrows somewhat at that point, which means that viewing the Griffon Vulture colony opposite is that much easier. However, we'd had our fill of Griffons, but as we arrived the reason for our visit was obligingly sat on top of the outcrop-a Spanish Imperial Eagle, probably the rarest raptor in Europe! Ann was already watching it as I arrived from the car with the telescope, apparently a helpful local had told her where it was (which annoyed her since she prefers to find things herself), but my views were to be quite short as it took off and circled above us and away. However, before long it returned and continued to do so over the next hour or so, enabling me to take some photos. It appeared to be a breeding adult and as there is known to be a nest site in the area we assumed it was one of the local breeders. Unfortunately the pair at this site have reportedly moved to a nest site further away from the edge of the cliff, thus rendering sightings less reliable, but I understand they are still in the area and as numbers are on the rise you shouldn't have too much difficulty encountering one in Monfrague or the surrounding area. At the time of our visit the weather wasn't good, it was cold and windy which probably meant fewer raptors in the skies overall. Certainly friends have experienced much greater overall numbers of many species in the normally warm and sunny conditions which prevail in Spain in early spring. However, we were more than happy with the views we'd had, an added bonus was a Black Vulture perched opposite, the first decent view of our trip. A Peregrine flew over briefly but decided not to stay, few other birds were in evidence as the weather was gradually deteriorating, so we decided to return to the picnic site at Tajadilla, where the weather was somewhat better although it wasn't far away.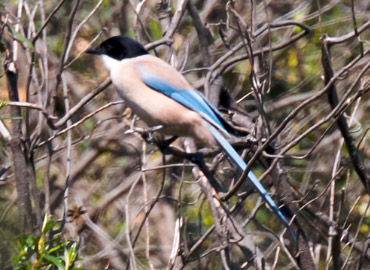 According to our book Tajadilla is a good spot for Iberian Magpie, which since its split from Azure-winged Magpie has become almost an Extremadura endemic (almost since the range extends into Portugal). This is actually one of the strangest species-pairs yet "discovered", since it has been given specific status largely because of geographic isolation, half a world away from Azure-winged. Very similar in appearence, yet both quite distinctive, how exactly the two populations came to diverge is a mystery, but with no chance of interbreeding, and slight morphological differences evolving along the way, we can now tick both these handsome corvids on our list. We saw Iberian Magpies, but they proved quite elusive, I only managed one photo before like many groups of Magpies they moved on. Certainly you will see them if you visit this site. The picnic site is on one side of the river just before a dam, vultures breed just across the river but we didn't really waste time looking as views would not be as good as those at the previous sites. However it is an idea to constantly watch the skies all along this road, since there are so many raptors in the park and anything can turn up. We didn't see much except at specific sites, but had a few brief views of Alpine Swift, which are far more common later in spring. Many common European species occur in the area, Grey Wagtails are usually around the dam, but I thought some of the "Chaffinches" flying across the road looked a bit large and bright. On further investigation I realised they were in fact Hawfinches, seemingly far less wary than their British cousins, and showing (and photographing) well in the trees at the roadside.
Our day spent in Monfrague was probably our best in Extremadura, despite the capricious weather, and a little more effort, especially a few weeks later in the year, would undoubtedly have given us many more raptor sightings, since Short-toed Eagles are migratory and arrive back in numbers in late March. On our return journey, however, we did add another eagle. In Gosney's book mention is made of a site near Serradilla given to him by Brian Dore, although he himself states he dipped on one brief visit. We didn't, although views were distant and needed a scope to confirm Bonelli's Eagle, often a difficult species in Europe. Incidentally, the nest site near Santa Marta de Magasca which is mentioned and has long been a "stake-out" for a breeding pair, hasn't been occupied in the last two years. I must mention one last species which we recorded but neither of us took too much notice of at the time, since it flew across in front of the car, that being Green Woodpecker. Or it was at the time, a different subspecies to the one in the UK. Despite the brief view, we both remarked on the lack of black on the face, which is one of the distinguishing features of the recently split Iberian Woodpecker. An armchair tick!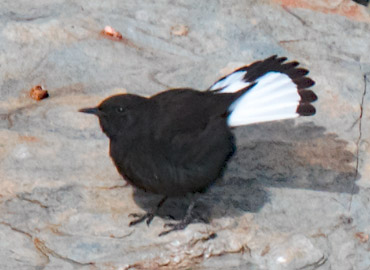 Our remaining days in the area had no real plan, we just wandered between sites or spent time at the guest house, which overlooked an area of the Trujillo plains. The owner is very enthusiastic, and the dining area is a large conservatory at the front of the building which can be used for viewing/relaxation at any time. There is usually a telescope available for anyone's use, although it is a top of the range Leica and the owner's personal property. He just loves showing people the local wildlife. The place attracts migrants, we actually got fed up with constantly calling Hoopoes which were usually visible in the early mornings, and a Great Spotted Cuckoo visited from time to time. I found two Black Vultures roosting on the plains one evening, and Lesser Kestrels hunted near the outbuilding where the White Storks nested, also a Little Owl has a nest on the property. The day before we arrived a Stone-curlew had been in the area, and walking the grounds I came across a Woodchat, Black Redstart and Redstart. Both Calandra and Thekla Larks were numerous, although Crested Larks did not inhabit our little "patch for a week". We saw no Bustards, but they weren't far away and we are assured they are seen from the house on occasion. Two potential vagrants to the area both flew over during our stay, but didn't start a twitch, being Lesser Black-backed Gull and Egyptian Goose! Raptors are commonly observed, Spanish Imperial Eagle is seen on occasion, but we were limited to Red and Black Kites, Griffons and the aforementioned Black Vultures. More species would be in the area later in the year.
We visited several of the sites in Gosney's book, Great Bustards were seen on several occasions, including displaying males and birds in flight, although only one group was near a specific site in the book. Little Bustards proved a bit more difficult, one morning I located a group before breakfast which had disappeared when I took Ann back to see them, although we did find them close by the following evening. We only saw a couple of species at sites given in the book, those being Western Orphean Warbler (Ann only!) and Black Wheatear, but during our wanderings looking for bustards we came across Black-shouldered Kite, (a juvenile near a bustard site with no bustards), Southern Grey Shrike, Little Owl in a nest-box meant for Rollers which hadn't yet arrived, Montague's Harrier and Cirl Bunting and more Blue Rock-thrushes. I eventually gripped back the Western Orphean Warbler, but it certainly didn't want to be photographed. One morning I visited the town of Trujillo to try to photograph Lesser Kestrels, but this proved to be difficult. Birds were around, but I think some were still to return from wintering grounds, since the town square, a traditional site, seemed empty (of birds but certainly not tourists!) On our last full day we drove north to a small reserve at Arrocampo, which is supposedly the best wetland in Extremadura. It was raining most of the time which didn't help, but at least there's a hide there. Being a large area, most of it inaccesible on foot, means that luck plays a great part, but we recorded several Purple Gallinules (or Western Swamphens depending on whose list you follow), distant spoonbills and a Purple Heron. Just as we were thinking about leaving a Little Bittern flew out from right below the hide, but in typical fashion disappeared into the reeds and hid. Better weather would probably have increased the number of species, both Penduline Tit and Savi's Warblers breed here.
We only recorded one more species before flying home (to better weather remarkably), that being a Sand Martin seen in flight just before we reached the airport the following day.

Spain has several species that would be targets for Western Palearctic listers, or someone as their first foray into birding abroad. (Be warned, such behaviour is VERY addictive). We were obviously familiar with most species, but given that we weren't all-out birding for once, still managed a quite impressive list, including Europe's rarest raptor, and displaying Great Bustards. Slightly more effort and better weather (which is more usual), plus a bit later in the year would have added quite a few more species, but we think it's the best place in Europe for variety and numbers. We'll certainly have to return as Wallcreeper still needs photographing, and there's Iberian Lynx waiting in the wings. I haven't been too specific with regard to sites, Dave Gosney's book is excellent value and well worth its small cost, particularly as there are many sites we didn't visit, so I have no wish to undermine his efforts. I'm sure all the information within is available on the internet, but then you could spend the requisite many hours research on going out birding instead!