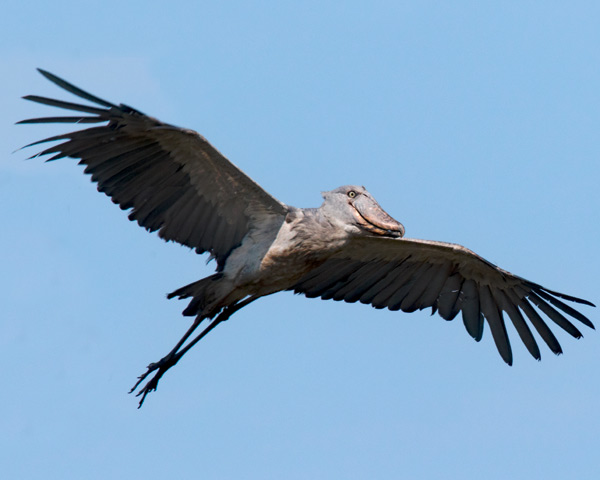 Although we have done a lot of birding abroad in the last thirty years, and have used the services of guides, this was the first trip we had undertaken which was just Ann and I plus a guide for three weeks. Ann has always wanted to see Shoebill, but most organised tours to Uganda include Gorilla trekking, and arthritic knees meant the terrain might not be suitable. In addition one of our main interests is waders, and I wanted to photograph them also, so we wanted a bit of flexibility in our itinerary to allow for missing specific species. To this end we engaged the services of Deogratius Muhumuza, of Uganda Eco-Tours (henceforth known as Deo). Deo is the owner of the company, and we specified that we wanted him to lead us, which was no problem. The result was a highly succesful trip, and we saw and photographed nearly all of our target species, those we missed being long shots or species that we can easily see elsewhere.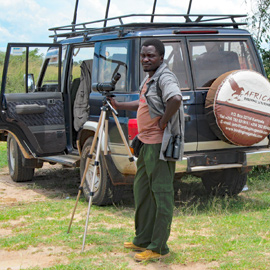 Tuesday 20th September We arrived in Entebbe in the afternoon, to be met with a cry of "Alan" at the airport, and a rapid transfer to a Toyota Landcruiser to begin our trip. Not quite so rapid was leaving the car park, we apparently arrived the same afternoon as large numbers of pilgrims returning home from the Haj. No worse than the M25, we were soon checking in to our first hotel. In order to keeps costs down we had asked for reasonably priced accomodation, nothing upmarket, and had no complaints about anywhere we stayed. The common fault in many countries is that nice hotels and lodges are built, but maintenance seems to be an alien concept, but apart from the odd light and loose taps we were more than happy. After checking in, Ann elected to relax whilst Deo and I visited the nearby Botanical Gardens. Most of the species here are to be found elsewhere, although Deo did point out Scarce Swift to me, which I would probably have overlooked among the local Palm Swifts, and we were pointed in the direction of a Verraux's Eagle Owl at roost by a local. Other birds included Pied and Malachite Kingfishers, Swamp Flycatcher and Black-headed Gonolek.
Wednesday 21st September The next day our trip began in earnest. We first returned to the Botanical Gardens, where sadly the owl had changed its roost, but saw more common species including Great Blue and Ross' Turacos, and Black-and-White Casqued Hornbill. Our first wader was a Common Sandpiper which winter here along with a number of other palearctic breeders. The gardens are on the shore of Lake Victoria, and two unexpected species here were African Openbill and Saddle-billed Storks, the latter being one of our target birds. We saw one from the car later that day, but "ticked" it at our main destination, which was Lutembe Bay. Not usually visited by tour groups, this is a Ramsar site (as are several wetlands in Uganda), close to Entebbe, and part of Lake Victoria. We arrived at a local village where Deo quickly organised the use of a dugout canoe, and off we went for 2-3 hours. The main feature of the bay was a large number of White-winged and Gull-billed terns (probably hundreds), all in moult or non-breeding plumage. Loafing with them on mudbanks were Grey-headed Gulls, amongst which we managed to find a couple of Slender-billed Gulls, apparently a rare visitor to Uganda but I think probably overlooked. In addition were small numbers of Baltic and Heuglin's Gulls. A few palearctic waders were present, mainly Curlew Sands and Little Stints, rarely seen in winter plumage in the UK. The trip also gave us our first wader target in the shape of Long-toed Lapwing, although we weren't expecting any difficulty and indeed saw them on several days thereafter. We looked for a White-backed Night-heron known to be in the area, but without luck, this was one of the few targets we missed. Some compensation came in the form of our first Saddle-billed Stork, White-throated and Blue-breasted Bee-eaters, Woodland, Malachite and Pied Kingfishers and Little Weaver. On our return a Marabou greeted us, which enabled me to take one photo and then ignore perhaps the world's ugliest bird for the rest of the trip. A couple of Broad-billed Rollers sat in a nearby tree, whilst a large (Village) Weaver colony was in the tree at the landing area, giving us something to watch whilst logistics and payment were sorted out with the boatmen. Deo included such "organised" activities in the trip cost, we just had to give a small tip.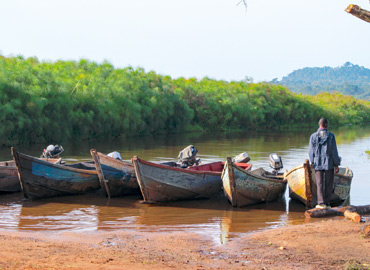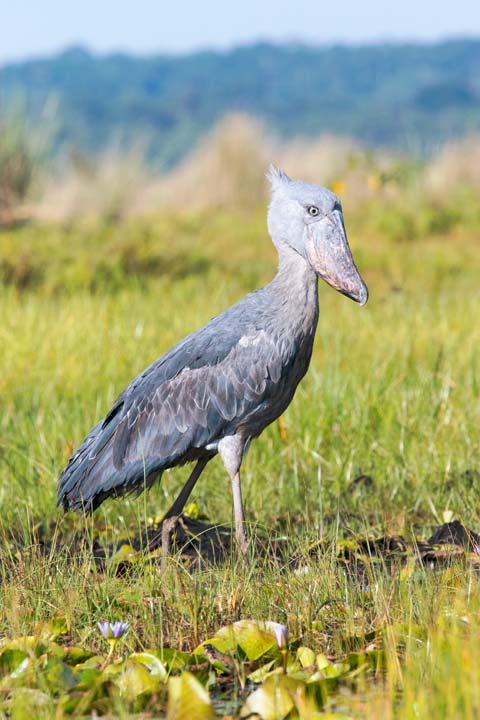 Thursday 22nd September Our big day today, the first real attempt to see Shoebill. We left early as birds apparently fly to more sheltered areas as the temperature rises. Our destination was Mabamba Bay, where the local village has organised the use of their fishing boats to allow eco-tourists to see the famous bird. This has two benefits; it provides a good income for the village, and also protects the swamp from the degradation and destruction which usually follows human activity. Thankfully it has not become too commercialised in the way Gorilla trekking has, so there is no hefty fee, and original dugout canoes are used. Outboard motors are available, but much of the two or three hours is under "paddle power". A fantastic experience, silently passing through channels in the papyrus, eagerly searching any areas of more open water. The dugouts were more comfortable than the previous day's, having padding on the seat boards and being flat-bottomed, but any discomfort was soon forgotten anyway when, after about ten minutes, we rounded a corner and saw a Shoebill standing out in the open, and immobile, about forty metres away. Our boatmen paddled silently closer, the bird remained immobile except for an occasional blink, until eventually I had to take the converter off my camera lens. We sat and enjoyed the moment, which lasted almost an hour in the end. Deo informed us that birds have been known to stand motionless for up to three hours, but eventually there were signs of movement. First the head, then a very slow step forward, a slow extension of the neck and.......a return to immobility! Two or three times this happened, then a few more steps forward. I asked for the boat to back off, not because I feared we would disturb the bird, but I could no longer get it in the camera frame! The Shoebill was obviously looking for a nice plump lungfish, and beginning a slow movement once again, suddenly lunged forward, wings outstetched for balance and plunged its enormous bill and head in to the water. It came up, vegetation hanging out of the bill and with its eyes closed. The prey we never saw, but the bird was obviously satisfied since after a short time it removed the dead papyrus stalks and other matter from its bill, using its foot in the process like a giant toothpick, and settled in a relaxed position. After a further few minutes it took off, and started to fly away. However, it seemed to appreciate its audience, since it turned back and circled our boat as if by way of an encore. We couldn't have asked for more, our main target bird watched for over two hours completely out in the open at close range, flight views as well, on our second full day in the country. We saw a bird, which I think was a different one, distantly flying over the swamp later, and what may have been a third from the top of the hill behind the village that afternoon. Deo tells me he has only ever missed them here three or four times over the course of many years.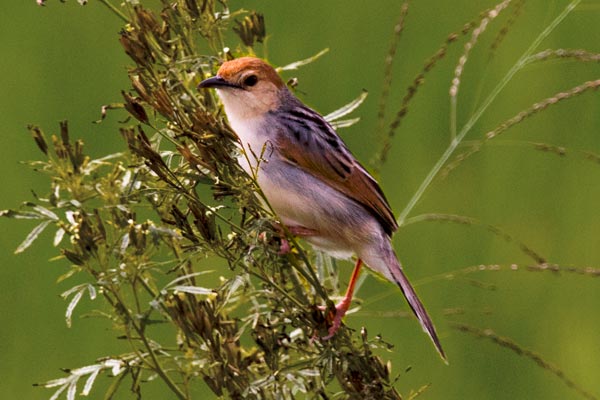 The next few days activites had been put in the itinerary for two reasons. We needed to travel some distance to our next National Park, which was Murchison, so in part it was a case of finding birding sites en route, two places we had picked were Lakes Opeta and Bisina, because they also provided backup for four of our target species, and were the only sites where we might find Fox's Weaver, Uganda's only endemic. However three of those targets revealed themselves at Lake Mabamba. After our Shoebill experience we were on a high, and still had time on the boat, so we started to search for Lesser Jacana, not always an easy bird to find and our last Jacana for the world. Deo had a brief glimpse of one but couldn't relocate it, so Ann countered by finding a Rufous-bellied Heron, another difficult species to pin down. Our luck was in that day, whilst continuing our search I happened upon a pair of White-backed Ducks, which we had missed in at least four African countries in the past. Deo was obviously even more determined to find the jacanas, so persuaded the boatmen to return to an area we had searched (we were heading back by then) for one last try. Success! Two birds were picked up in flight, and we managed to track where they landed and were able to see one walking along the edge of the papyrus. Friday 23rd September A day spent largely travelling enabled us to reflect on what we'd done in the space of a couple of days, but in order to have some birding Deo had been able to permit us access to the Kibimba Rice Scheme in the afternoon. A huge area of experimental rice growing, and other crops also, we were able to drive around the fields and paddies which were well populated with various waders etc. A number of Ugandan "firsts" have occured here, sadly we couldn't add to the list, nor had the Wattled Crane (1987!) returned, but we had good views of Yellow-billed and Woolly-necked Storks, our first Grey-crowned Cranes, and various waders. We searched for Painted Snipe but to no avail, and Deo began my education in Cisticola identification with good views and photos of Winding Cisticola. Our hotel for the night was in the town of Tororo, but we still managed Lilac-breasted Roller among other species nearby.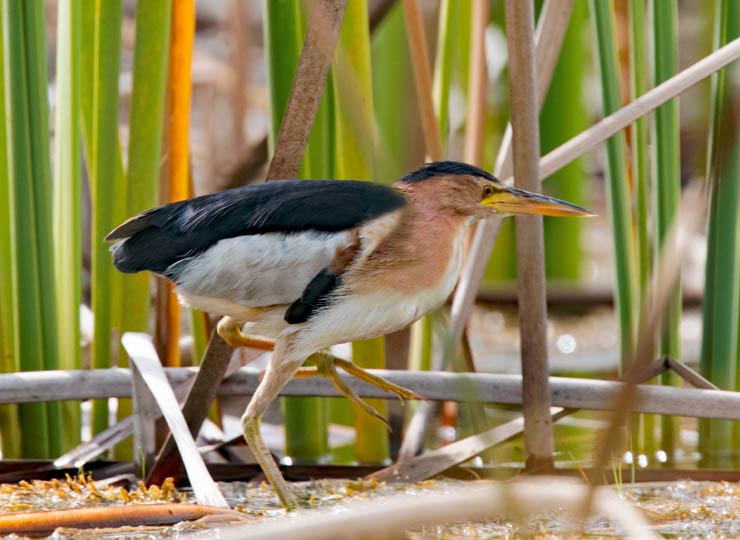 Saturday 24th September Another dugout canoe trip, on Lake Bisina, was scheduled for today. Quite a long drive during which we saw Brown Snake-Eagle brought us to the lake shore where we managed to find fishermen to take us in to the papyrus. The canoe was even less comfortable than the Lutembe Bay one, but the lure of Dwarf Bittern kept us going. Sadly we only managed to find Little Bitterns (about four) and Squacco Herons in the papyrus, although one of those we realised (too late) was a Madagascar Squacco. They always fly directly away when you want to photograph them! However the camera was kept very busy as we came across several Lesser Jacanas, far more approachable than the ones in Mabamba, and one stood preening its full breeding plumage for several minutes right in front of our canoe. In fact most birds including the Little Bitterns allowed quite close approach, the canoes being paddled. Presumably they are quite used to fisherman. Other birds included Papyrus Canary and Northern Brown-throated Weaver. We stayed in Soroti town for two nights, after that our accomodation was all lodges (much better in terms of experience, location etc.) Sunday 25th September Today was largely a repeat of the previous day, although the fishermen were more organised (when we found them-they were all in church!). Lake Opeta is larger and more open, but probably more visited by birders searching for Fox's Weaver. Although we weren't bothered we didn't encounter any, and later heard that birders led by a friend of Deo had spent the next two days searching for them specifically with the same result. Sadly the same applied to our target, Dwarf Bittern, but at least in their case we know they exist! However we did see about twenty Little Bitterns, which was far more than Deo had ever seen in one place. This was undoubtedly due to making our way slowly and quietly through the papyrus, something you can't usually do in European reedbeds. On the way back Deo asked if there was still a solitary Hippo in the lake, only to be told the villagers had killed and eaten it!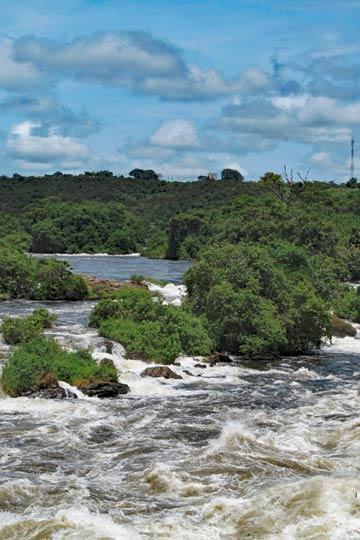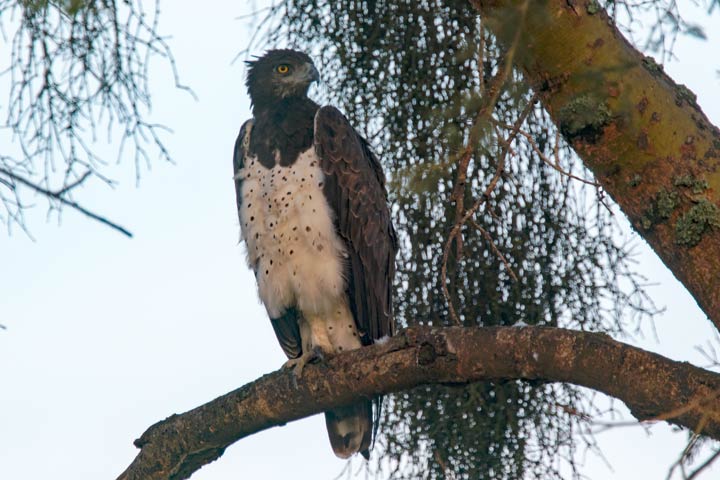 Monday 26th September An early start in order to travel to Murchison National Park, an Abyssinian Roller was in the tree visible from our hotel window. Although not a huge distance, much travel in Uganda is slow due to the lack of decent roads away from the capital, but by dint of not stopping much we arrived in the general area of Murchison fairly early, in time to look over a bridge where Rock Pratincoles occur. I was looking at a pair about fifty yards upriver when Ann suggested I look down, and there about fifteen feet below was a bird on a rock, looking settled and waiting to be photographed. Photography from the bridge is not allowed for security reasons, and there are a couple of (bored) soldiers there to ensure compliance. A quick word from Deo, and they agreed to look the other way for ten minutes, so superb photos were duly obtained of another target species. The contribution to the army benevolent fund was commendably small, so everyone was happy. In truth we saw few other birds that day, we had hoped to enter the park but the easy route was blocked by floodwater, which would necessitate a forty kilometre detour, so we decided to book in at our lodge early. We got petrol in Fort Portal, and as we crossed the bridge towards the lodge Deo stopped for a look at the papyrus swamp on the shores of the Nile. To our amazement we found another Shoebill! They occur within the park, but this is apparently as good a spot as anywhere. So, although very unlikely, if you do miss them at Mabamba, all is not lost.
Tuesday 27th September We began the next day exploring the northern section of the park. The floodwaters were still high so we had to enter by another gate, but our only targets would be quite easily seen, so time wasn't at a premium. In parks such as this, the longer you spend the more you will see, but we weren't attempting a "clean-up" so weren't too worried. Certainly we saw plenty of species, both mammals and birds. We headed first to a spot near the river in order to find more waders, and had excellent views of Senegal Lapwing, African Wattled Lapwing, Black-crowned Plover and Kittlitz's Plover, in addition to Spur-winged Plover and Long-toed Lapwings, which were becoming ubiquitous. We also came across migrant Black-winged Pratincoles on the way. Raptors were frequent everywhere and included Black-shouldered Kite, Bateleur, Martial Eagle, Grey Kestrel and Red-necked Falcon. Other notable species were Black-bellied Bustard, Heuglin's Francolin, Diderik Cuckoo, Little, Swallow-tailed and Northern Carmine Bee-eaters, and Buff-bellied Warbler. Mammals were much as would be expected, we watched a group of Lions but the nearest we got to a Leopard was a group of Uganda Kob on "high alert", indicating the presence of a predator. Probably the ultimate stealth hunter, it remained hidden and eventually for whatever reason the Kob resumed their relaxed grazing. At one point our progress was halted by a herd of elephants. There are large numbers in the park, and frequently the presence of droppings indicates where they have crossed the tracks. After seeing several animals either crossing or near our path we eventually rounded a bend to be confronted by a large animal standing across the track, apparently resting under the shade of a tree. Elephants are unpredictable creatures, usually quite tolerant but if something upsets them they may charge to remove the minor irritation which is your vehicle. So blasting the horn does not send them running off, and may result in an attack, so gently revving the engine was our best option. Whilst the elephant was obviously aware of us it showed no inclination to move, so we had to sit and wait, photographing our only Silverbird of the trip, above us in an overhanging branch. It became obvious we would get bored first, and when others of the herd began to cross close to our vehicle, we had to admit defeat and retrace our steps (or tyre-tracks). I have to say Deo always had our safety in mind when near animals, some safari guides are not so careful, as became apparent later.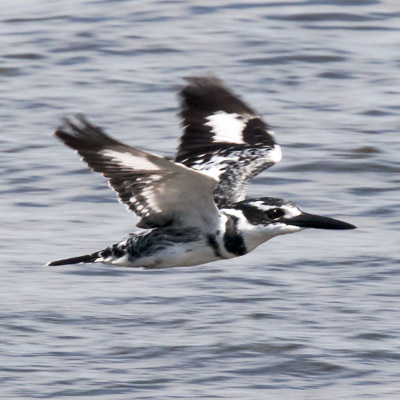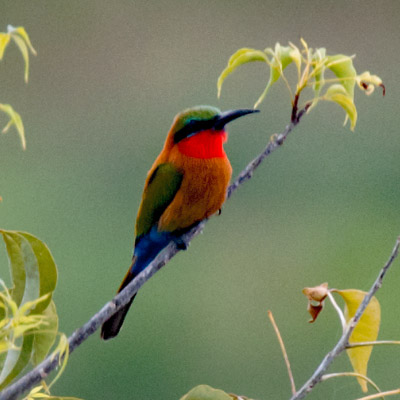 Wednesday 28th September The following morning was more of the same, but we were just able to get through the floodwaters to access the park more quickly. On the exit track from our lodge (definitely a 4WD route) we had a Marsh Tchagra pop up in roadside reeds, the only one of the trip. We were due to join the boat trip on the Albert Nile in the afternoon so we proceeded slowly to the river bank, via whatever we happened to see. Vultures were much in evidence today, including White-headed, Hooded, White-backed, Ruppell's, and Lappet-faced. The latter three we observed fairly closely at a "kill" although the lack of jackals and hyaenas suggested a natural death. It's all the same to vultures. Other new birds included Nubian Woodpecker, Spotted Palm-thrush, Foxy Cisticola, Gambaga Flycatcher (rare in Uganda), White-browed and Chestnut-crowned Sparrow-weavers and a brief view of a Jacobin Cuckoo. Arriving at the picnic area from where the riverboat picks up tourists, we were greeted by an habituated Warthog and told to keep our eyes open for Yellow Baboons. We had a packed lunch and relaxed whilst awaiting the arrival of the boat. During this time we were entertained by Wire-tailed Swallows coming to drink at a puddle, and our first Red-throated Bee-eater of the trip. Even more entertaining were the Baboons we had been told to be wary of. A small troop appeared, we had finished our lunch and another couple were sat at the table, unfortunately their guide didn't warn them and a bag was swiftly grabbed and opened to remove any food contents. The girl did manage to retrieve the bag, which appeared to have a souvenir logo (at least when it arrived), and they seemed to find the incident amusing. Not so the occupants of an upmarket 4WD safari vehicle, which arrived with windows open. The group were part disembarked, when one of their party was suddenly seen trying to fend off another Baboon which had leapt in to the open window and was intent on ransacking whatever bags it could find. Thankfully no-one was actually attacked but I wonder if the group had been made aware of the size of a baboon's canines! A lesson in which creatures to habituate, incidents such as this all start with people throwing food scraps for the "cute monkeys", and professional guides should warn their clients. By contrast, our boat trip was well-organised, with very knowledgable guides, and was a relaxing way to spend the afternoon. Close approach was the order of the day, whether it be hippos, crocs, elephants or Marsh Sandpipers. However I did notice that a lone elephant on the shore, clearly in must, was left well alone. The hippos seemed quite happy with the boat's presence, we even felt them swimming under the flat bottom on occasion. However, birds were the real highlight for us. The single Red-throated Bee-eater we had seen earlier didn't prepare us for the colony, about sixty strong, attending burrows in the riverbank. Again at point-blank range, and next door to nesting Pied Kingfishers, which were becoming more than a little familiar by now. This was just the start, and as we continued, the flat-bottomed boat was able to get very close to the shoreline enabling me to get some superb photos of Yellow-billed Stork, Marsh Sandpiper, and Senegal Thicknee among others, the latter being the only one of the trip and assumed to be a Water Dikkop until later examining the photos. Making our way to mid channel the boat continued toward Murchison Falls themselves, and we picked up our first White-headed Saw-wings feeding over the water. The falls are quite impressive, although not large, and the boat approached a landing stage very close to the bottom. Here most of the tourists got off to follow a track to the top, we had considered it but in view of the noise they made decided it wasn't worth the trouble. Pel's Fishing Owl has been seen here but as most of the railed path was in view we thought we had a better chance of finding one by scanning from the boat. This plus another scan from the top the following day produced absolutely nothing. Whilst others were disembarking we found a pair of Rock Pratincoles on a rock in the river, one of these flew closer and we spent many minutes watching and photographing it at point-blank range (yet again). We had earlier asked the guide on the boat about Giant Kingfisher, which is apparently rare in Uganda. They had been on the lookout with no success, but we must have "talked them up" for a pair appeared from the falls area and flew downriver past the boat, giving good, if flight, views. The boat, having offloaded most tourists, turned to return to the dock, but spent much time looking for the Giant Kingfishers, and continued pointing out varying species all the way to the jetty, rather than the usual quick dash back. We unfortunately saw no more of the Kingfishers, but found several Goliath Herons in the reeds on a central island, and more flying upriver. Our day's tally for that species was an incredible six.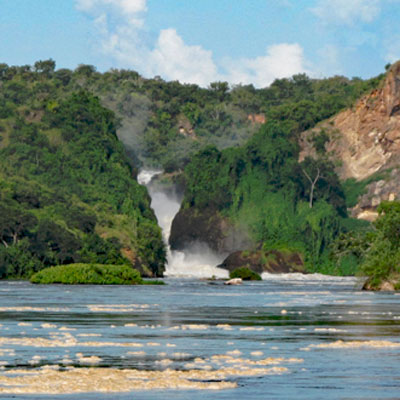 Thursday 29th September The night following our boat trip was spent in a hotel further south, and we soon discovered why few people visit the southern section of the park. If you open the windows of the vehicle you are almost immediately invaded by tsetse flies. Sleeping sickness apart, although we were told it wasn't a problem in that area, their bite is painful. Thankfully that does mean instant death or removal for the fly, although many of those we killed had obviously had a meal of blood from some unfortunate creature. Our intended route to the next area did take us via the top of the falls we had sat below the previous day, strangely the flies were less there, although so were the birds. The site is the "standard" stake out for Rock Pratincole, but although we'd enjoyed more than adequate views there was little reason to change our route. Deo and I went off for another fruitless search for Pel's Fishing-Owl, while Ann sensibly waited in a small shelter, intending to follow us if we found one. All we saw were more pratincoles, although some in flight this time, whereas Ann did at least find a Tinkerbird and another two Goliath Herons! The remainder of the day was spent travelling to Masindi, our overnight stop before visiting Budongo Forest, and little new was seen except a mystery bird flitting along a roadside verge in front of the vehicle, which turned out to be the only Cabani's Bunting of the trip.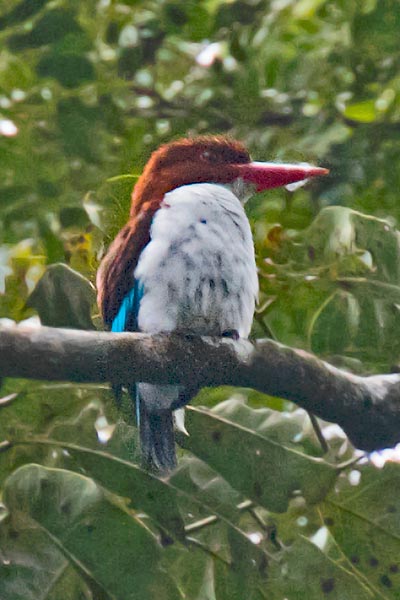 Friday 30th September The famous Royal Mile in Budongo forest. An early start got us after about an hour's travel to this open forest ride for some easy birding. At least in terms of the walk it was easy. Finding birds, many of which were in the canopy, presented some difficulty. Had we been alone we would probably not have seen any of the specialities, however Deo introduced us to the local guide, Raymond, whose first words after the exchange of pleasantries were "what are your target species?" Having determined these, chief among which was Chocolate-backed Kingfisher, our hunt began. Before leaving the immediate area Raymond pointed out a Pygmy Kingfisher, closely followed by Little Bulbul. Soon after Ituri Batis, one of the area's specialities, appeared (to Raymond anyway) in the canopy. Judicious use of a laser pointer enabled us to swiftly "get on it", although views were brief. At a break for lunch in the forest Deo told me Raymond was very impressed with the speed with which I picked up on things, perhaps he's used to less experienced birders? The actual order in which we saw things now escapes me, but Kingfishers were the highlight of the day. All the time Raymond was imitating the call of a Chocolate-backed, in between other species which he heard as we walked, but for a long time it looked as if a dip was on the cards. We heard a Nahan's Francolin, and left the track in an effort to see it, but they're much more adept at sneaking through the undergrowth than we are, so we never did manage to. Raymond's call imitation seemed perfect to me, but the bird obviously wasn't interested. However a Blue-breasted Kingfisher did appear to see what was going on, and a pair of Dwarf Kingfishers crossed the path in front of us. We continued, seeing various species including several Greenbuls, a Yellow Longbill, Yellow-throated Nicator, Chestnut-capped Flycatcher and Superb Sunbird among others. We were just coming to terms with the fact of there being no Chocolate-backed Kingfishers around, when Raymond heard a distant call. His imitated whistle became much more intense and after a few minutes we enjoyed a bird sitting quite high in the canopy, but almost above us. At last, the most wanted species in Budongo! For us anyway. The pressure was off, and soon we approached a stream which crosses the track, intending to have lunch nearby. There, sitting on a branch across the stream, was a Shining-blue Kingfisher, its electric blue back in the shaft of sunlight living up to the name. Unfortunately, I wasn't quick enough with the camera and although we waited some time, with White-headed Saw-wings coming to drink on the wing, no more was seen of it. Although I had seen one before, it's apparently not an easy bird to see, and hadn't been seen in that spot for months. Mammals seen that day included Tree Hyrax, Blue Monkey, Alexander's Tree-squirrel and Red-legged Sun-squirrel.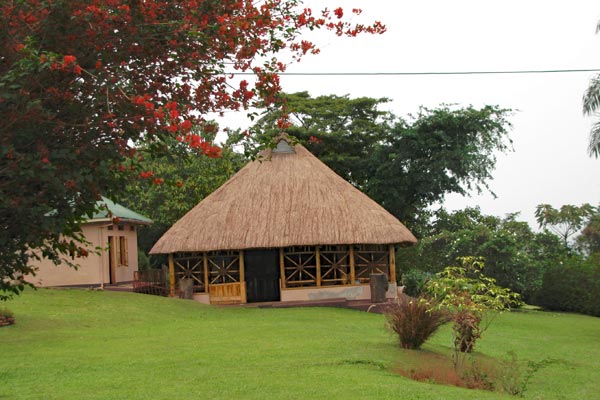 Saturday 1st October After the success of the previous day, the next was mainly taken up with travelling, due to the appalling main road to Kibale. The distance wasn't great, but neither was the distance between large potholes. Kibale, with its Chimpanzees, is now a tourist attraction, but it seems the further from the capital the worse the roads. New roads are being constructed, but for our trip the roadworks only served to hold us up further. However, it could have been worse, we had a good lunch stop, and arrived at our lodge with plenty of daylight left. Just before reaching the lodge, which was at a higher elevation than areas we had visited, we stopped for a couple of bee-eaters on roadside wires, which turned out to be Cinnamon-chested, our only ones of the trip. The lodge itself proved to be an excellent site, within a few minutes we had recorded African Blue-flycatcher, Grey Parrot, Bronze Sunbird, and White-rumped Swift, all of which appeared to live in the grounds, and later Lesser-striped Swallow, Black-crowned Waxbill and Northern Fiscal. Ann elected to have a rest whilst Deo and I made a preliminary sortie to locate the "stake-out" for Black Bee-eater, our main reason for visiting. We went to a roadside bank where they were known to nest, only to be confronted with road works and no birds. We thought they would still be in the area, so travelled up and down the road searching. The nearest we got was a few holes in the bank further along. However, neither Deo nor I give up easily, so after driving up and down several more times, we resolved to return the following day, since Deo knew of no other sites in the area and we hoped they were still nearby. Black Bee-eaters do not nest in large colonies, had they done so it is much more likely the whole colony would have re-located. Ann at least wasn't too disappointed, since she would have dipped anyway!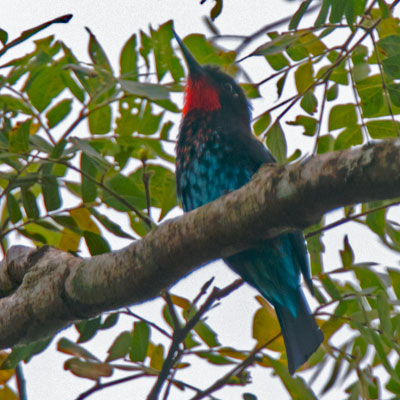 Sunday 2nd October The plan of action today was therefore to visit Kibale Forest, or a section of, sandwiched between two sessions of looking for Black Bee-eater. The problem was in part that we had no other sites for the bee-eater, they are far commoner further south (in Bwindi for instance). The first session produced nothing except one of the monkeys which are frequent in the area, Uganda Mangabey (a recent split fom Grey-cheeked). Monkeys were a feature of the walk in the forest, we recorded in addition Red Colobus and Red-tailed Guenon, and more Blue Monkeys. The forest was notable for Barbets, Tinkerbirds and Sunbirds in the main, but the highlight (for me anyway) was an extreme skulker, found by our local guide. It only took ten minutes to see it, a White-spotted Flufftail which crossed a gap in the undergrowth about twenty feet in front of us. Had it been much longer I would have got cramp, being in a low crouch necessitated by the dense foliage. Another skulker affording brief views was Brown Illadopsis, my first of the genus.Returning to the main quest in the afternoon, we continued to drive up and down the road. We saw more monkeys, Red-headed Malimbe, Chestnut-winged and Narrow-tailed Starlings, and bee-eater entrance tunnels which kept our hopes up, but eventually we all but admitted defeat and, being at the furthest point from our lodge, decided to head slowly back. About half way back Deo, never one to give up, suddenly braked and suggested we look at the bird above us at the edge of the trees. we did, and immediately forgot the last few largely unproductive hours! Of course it was the Holy Grail of bee-eaters-Black! There were in fact three or four in the vicinity, but the others quickly flew off while I was panicking to take a photograph. One bird however, sat posing in the tree, showing off its beautiful plumage. Not that other bee-eaters aren't beautiful, but Black is something different, and a much-wanted bird by many birders. In fact we recorded no less than nine species in Uganda, didn't see many bees though!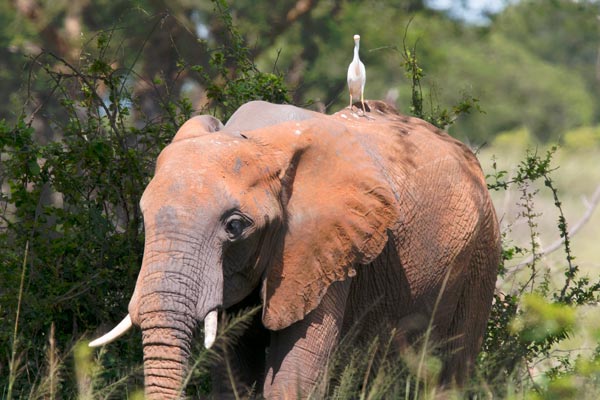 Monday 3rd October At this point many people travel to visit Gorillas, and also a large number of birds in the forests of the Ruwenzori mountains. As our trip was specifically about target species we had elected to travel slightly to the east, our next stop being a couple of days in Queen Elizabeth National Park. We arrived at lunch time, having just seen a Mosque Swallow on wires along the road. QE is a fairly major tourist park, and our lodge was quite upmarket, although nothing compared to some in the area. Several new species were around the lodge, including Dark-lored and Arrow-marked Babblers, and right outside our room was some food (probably thrown out by a previous guest), which attracted a flock of weavers and Red-billed Quelea. The flock included Lesser and Heuglin's Masked-weavers. To my shame, the latter was identified three weeks later from a photograph, but that seems to be a popular way of birding nowadays! Our time in the park was spent birding from the vehicle, in the manner of a typical safari, although some areas were not on the tourist route and outside the park boundaries, thus enabling us to get out. Our main target species were Caspian Plover and Dwarf Bittern, both destined to frustrate our efforts. The former winters in varying numbers and the latter can turn up anywhere but usually doesn't. However, we still saw several new species and a lot of wildlife, including Lion, Zebra, Jackson's Hartebeest, Oribi, and Cape Buffalo among others. A visit to two wetland areas where we could walk produced a large flock of Lesser Flamingos, African Crake, Water Thicknee, Three-banded and Kittlitz's Plover, but no Caspians, although there was a large area of suitable habitat surrounding the first area and they often are seen there. On our return journey Deo suddenly stopped and indicated a large tree to our left. Ann finally saw a Verreaux's Eagle-owl outside a zoo!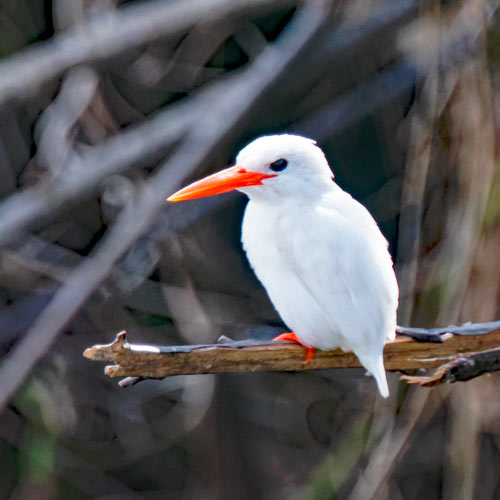 Tuesday 4th October The following morning took us to different areas of the park, where we quickly more of one of our target waders, Senegal Lapwing. Not to be confused with African Wattled Lapwing, which used to be called Senegal Wattled, this is a bird similar to Black-winged plover, both are quite thinly distributed, but Senegal is easily found in parks of Southern Uganda. There were plenty of African Wattled Lapwings around in the park, the appearence is very different. Another new wader for the trip was Crowned Plover, much commoner in other parts of Africa. Other species of note included Black-bellied Bustard, Red-necked Francolin, Common Scimitarbill, White-tailed Lark and a Kurrichane Buttonquail which alighted on the track, enabling me to photograph it. The afternoon was spent on the tourist boat which plies the Kazinga Channel, running between Lake Elizabeth and Lake George. In truth this provided one of the disappointments of the trip, since we were expecting to see one of our targets, African Skimmer. We saw none, as the rains had arrived a bit early and the sandbanks beloved of Skimmers were underwater. Still, it was the only missed target we really had expected to see, the others were long shots, so no complaints. The boat trip itself was well worth it, the banks of the channel are thronged with mammals and birds, and the flat-bottomed boat was able to get really close to the shore. No new birds, but we saw a new mammal for the trip, a Giant River Hog, difficult everywhere else in Africa. Or rather we saw a mound of mud with a hog-like shape and a typical hog snout, asleep in a wallow, again oblivious to the boat. One interesting bird we did see, which has apparently been in the area for about four years, was a white Malachite Kingfisher. Not an albino, since the eyes were dark and the bare parts bright red, but otherwise completely achromatic. Why it hasn't been predated in those four years is a mystery.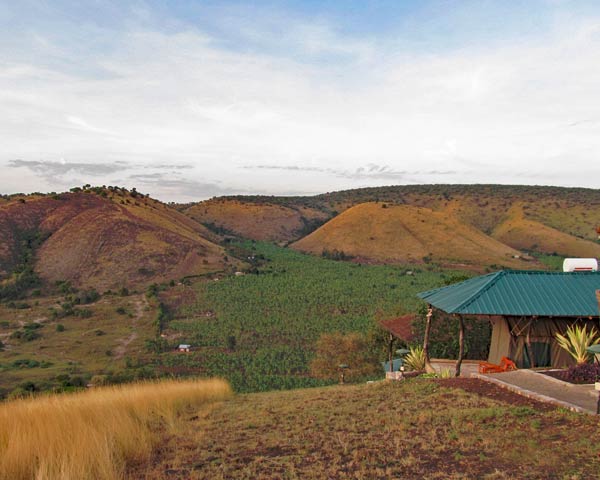 Wednesday 5th October It was now time to head back towards Entebbe, but we still had one target, which is not widespread, that being Brown-chested Lapwing. An intra-African migrant, Lake Mburo National Park is a major wintering area and probably the easiest place to catch up with them, since the breeding areas are in West Africa and largely inaccesible without a lot of planning and expense. Most of this day was spent travelling, with a leisurely lunch, a visit to Deo's home village, and a puncture which was fixed at a typical African pace i.e. slowly. No problems, we were heading for possibly the best lodge of the whole trip and weren't in a great hurry. The lodge was on a hill and consisted of a large restaurant area and tented accomodation with en-suite facilities to the rear. The great thing was the view over miles of savannah, with raptors circling above us, we could literally see for miles and sit on the verandah of the tent, relax and watch the sunset. Appropriately named Eagle's Nest, unfortunately we had a slight problem getting up the hill due to a minibus in front which couldn't make it up the very steep climb. Getting out and walking up the hill, Ann unfortunately had an asthma attack. Thankfully this wasn't serious but as we were already running late she decided to sit and take in the view whilst Deo and I went to find the plovers, thinking we could all go straight back to the area the following morning.The birds aren't always in the same area of the park, favouring burnt-grass areas like many of their kind; such areas obviously move from year to year. Also some areas of the park are "no-go" areas as there is a village within the park boundaries and some areas are conservation areas within which tourists aren't allowed. Even so we didn't expect too much difficulty in finding the birds, but this proved not to be the case. We drove in and out of several parts of the park, not even seeing commoner plovers, but eventually found a few African Wattled, then some Senegal. But no Brown-chested, and dark comes quickly near the equator. However, in the best traditions of brinkmanship, as dusk began to fall we passed an area where we had seen Senegal Plovers earlier, and our eyes alighted on a small group of Brown-chested Lapwing. Photos were duly obtained before the light went, including one young bird which walked on to the track and towards our vehicle, presumably curious. It eventually came too close to focus on, so much-relieved, we proceeded back to the lodge at some speed as you aren't allowed in the park after dark.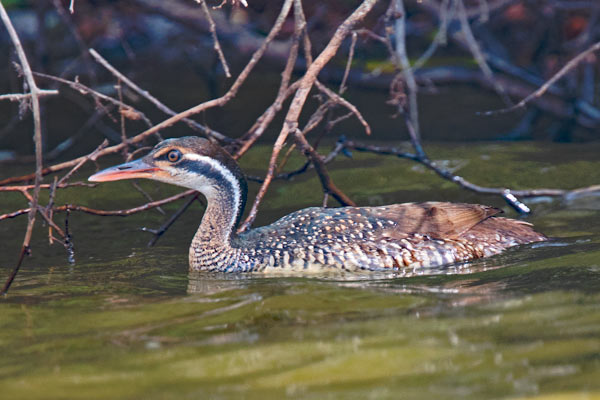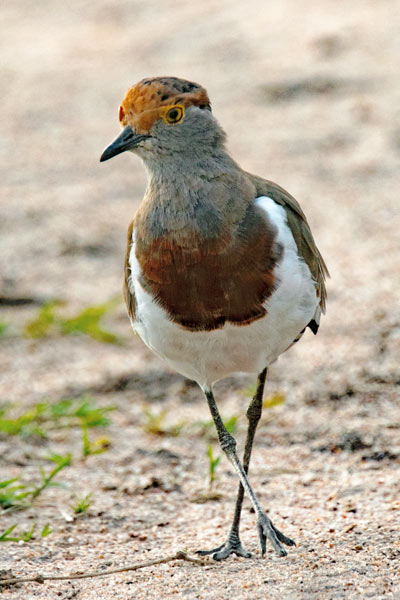 Thursday 6th October Our last full day birding, Deo had planned an afternoon boat trip on the lake, and we set off to show Ann the Brown-chested Lapwings. To everybody's amazement they were nowhere to be seen. We recognised a juvenile Senegal Plover at the site from the previous evening, but none of our target birds. Ann said she wasn't bothered (like she expected us to believe that!) so we set off to search the area again. We came across Crested Francolin, new for the trip, Green Woodhoopoe, and the range-restricted Tabora Cisticola, but all too soon it was time to set off for the boat, and there was still no sign of the Lapwings. We vowed to have another try later, and actually picked up a few new species whilst having lunch at the jetty, including Red-headed and Holub's Golden Weavers. The boat was to an extent a further disappointment, since rising water levels had caused the local White-backed Herons to retreat in to the forest, and we saw nothing new as we searched the perimeter. However, there was a sting in the tail, as we suddenly stopped when almost back to the jetty. Raising binoculars, we saw an African Finfoot swimming in and out of overhanging branches! I soon had excellent photos of this difficult and often secretive member of the family, and this did raise our spririts more than somewhat. There was still unfinished business though, so we quickly returned to the now familiar area to resume our search for the Lapwings. We traversed the same tracks, with no sighting, and eventually Deo said "I know where we will see them, but unfortunately it's in an out-of-bounds area" We continued, but soon realised we had become "lost". I don't know how that happened, but within five minutes we were watching a small flock of Brown-chested Lapwings-at last! A fantastic end to our trip, for Ann especially. As we left to return to our lodge we were stopped by an armed guard. "Oh, is this Eland track? No, silly me, I seem to have made a mistake, can you direct me please?" Duly given directions by the guard, and told to be careful because he could be fined for entering the area, Deo made his way to the park exit, where it was again rapidly approaching dusk, and three very happy birders returned to Eaglenest to celebrate. Unforunately things were dampened slightly (literally) by an horrendous downpour, but it was the first really heavy rain we had seen in daylight. Friday 7th October The following day was spent driving to the airport for our flight home, had we needed it we could have had a couple of hour's to look for anything we still desperately wanted to see, but thanks to Deo's excellent planning we had seen 90% of our targets, and not one of the few we missed couldn't be seen elsewhere.

Most birders visit Uganda to see Shoebill, but there is much more to see. We targeted waders, and it probably has a greater range of waders than any other African country, plus a number of other desirable species. Primates apart, it doesn't have abundant mammals, although had we been wanting to see more it would have been easy enough. Rhinos are sadly extinct, although there are re-introduction plans. Herons, Kingfishers, Bee-eaters and raptors are common, and if you include the Western mountains in your trip about five hundred species are on the cards. A number of these would only be otherwise found in western Africa. An added bonus is that the country is still relatively tourist-free, many places we visited we saw no-one else. All in all a fabulous country to visit, and Deo was probably the best guide we have ever travelled with, especially for his perseverance and the ability to get "lost". An added bonus is that most reasonably-priced flights are with Emirates, enabling a day's stopover in Dubai for Crab Plover.