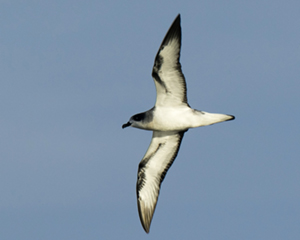 I have always wanted to photograph Barau's Petrel, it being fairly recently described (1962). However, unlike many pterodromae it is only reliably seen near its natal island, Reunion, and dispersal areas aren't well known. There are organised tours which visit the Seychelles, Mauritius and Reunion but they are expensive, and as we had visited the Seychelles on a cruise didn't think it a worthwhile use of our birding budget. However, Mauritius is a popular package holiday destination, so we booked a holiday, with a three day side trip to Reunion. Obviously the first thing was to look for trip reports, and whilst there are quite a few, many are old, and in particular, I gleaned only one specific site for Barau's Petrel. However, it seemed fairly certain that we would be able to connect with our main quarry plus most of the endemics, so off we went.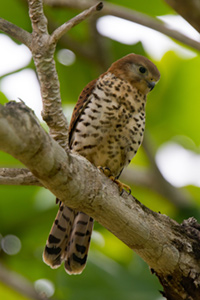 Unfortunately, this was not one of our most successful trips due to my being unwell, but I am at least able to update a lot of the information that's out there. We did see most of the endemics, but Mauritius seems not to be a suitable place for seawatching. An old trip report suggests that all the expected seabirds can be seen from land, but the writer seemed to spend all his time seawatching. The biggest problem is that most of the island's coastline has an offshore reef, and most birds, particularly the more pelagic species, don't venture within it. I discovered however that a tour company, Rockjumper, was due to be on the island whilst we were there, and they were very helpful in allowing me to join their boat trip to Round Island, which is a breeding station for Trindade/Round Island Petrel, a new bird for me. I had tried several websites but was unable to find a boat that would take me at reasonable cost, however sharing made the cost manageable. The best laid plans etc......the boat trip was cancelled! There was no alternative day since the tour group was moving on, being that tourism is so important to the island's economy the trips are actually cancelled by the government's meteorolgical office, as they don't want to put tourists off. Determined not to dip the petrel, I spent the afternoon and early evening seawatching. I did manage to identify a few Trindade Petrels, but they were distant, and certainly not photographable.
We arrived at the airport and formalities were quickly completed, not so the car hire. We had chosen a local firm, Pingouin, as they were a bit cheaper and to be fair, the ensuing delay was not of their doing. The main problem is the car hire "centre" being mixed in with the main car park, but I've known far worse. The car was fine for what we wanted, distances aren't great and neither are speeds. Mauritian drivers range from slow to weaving, with the occasional "boy racer" or stressed executive near the towns, but as a throwback to colonial times they drive on the left (mainly). A one-time British colony, many people allude more to French influence, as the island has changed hands several times since its original discovery by the Dutch. Somewhere along the way, (I suspect the British), several non-native species of bird were introduced, as well as the usual environment destroyers such as rats, mongooses, cats etc. All this means that unless you visit specific sites the top birds on your list will probably be Madagascar Turtle Dove, which may have got there naturally, and Village Weaver, which didn't. Waders are notable by their absence, although a thorough search of the coastline will throw up a few, but they are all Palearctic migrants. Crab Plover has been recorded, but don't hold your breath!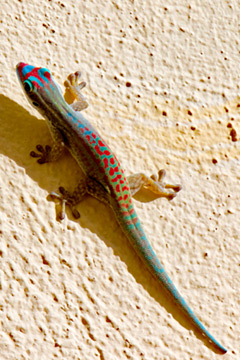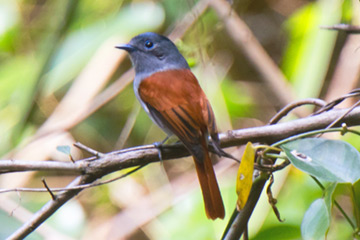 As luck (and planning) will have it our hotel was right next to the Bras d'Eau forest reserve. Although quite sizeable there seem to be few native birds and the only real reason for a visit is to find Mascarene Paradise-flycatcher, this being one of the few places on the island where they are to be found. They are much commoner on Reunion, but not everybody will be visiting there. Asking directions from the forest office, which is on the main road, I set off and walked a considerable distance before deciding I had misinterpreted the directions and retracing my tracks. I went to the suggested "site", which wasn't far from the main road and after some time I decided that a dip was on the cards, so I started my return. As is often the case, as I got to the junction of the tracks I saw a bird fly past and alight in a bush close by. As the Paradise Flycatcher is possibly the hardest endemic to find on Mauritius, I was well chuffed, especially as it was a male. A few photographs and a hundred yard walk later I was back in the car. I could in fact have walked from the hotel, but it's not possible to walk through the forest and there's nothing on the seaward side. There was however a small flock of another Mascarene endemic flying around the car parking area, that being Mascarene Swiftlet, they are quite widespread on the island. Although they also occur on Reunion we saw none there. Mascarene Martin is also recorded at times, but is far easier to see on Madagascar. All the other endemic birds can be seen in the Black River Gorges at varying points, but what was critically endangered a few years ago isn't necessarily now, and only a few species present any difficulty.As we had far more time than necessary we took things in a leisurely manner, particularly as I was unwell, so the following morning saw me exploring an empty hotel complex whilst the pool was being cleaned. There were several feeders but they only attracted introduced species, although it was nice to get decent photos of Madagascar Turtle-Dove. There were a few reptiles around, including the endemic Ornate Day-Gecko, which certainly lives up to its name. Also of interest were a number of large yellow wasps, which seemed totally non-aggresive, indeed we watched one building a nest on our veranda, they were obviously solitary nesters. Our hotel was noticeable for a colony of Mauritius Fruit-Bats, which entertained us every evening flying out from their roost and some landing in the trees around the swimming pool. I could not find the roost site, but we did see the odd few during daylight flying from one patch of forest to another, all over the island. These bats have for many years been the subject of controversy as the government have allowed culls to protect the fruit farms. Thankfully these have been limited so that numbers are still reasonable, but the battle carries on. We saw one native bird during our time at the hotel, that being the Mauritius Grey White-eye, which is common throughout the island.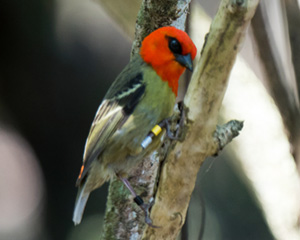 All the other endemic species on the island are (or were) endangered to a greater or lesser degree. Everyone has heard of the tiny numbers of the Kestrel and Pink Pigeon which, because of the efforts of the Durrell Foundation and the Mauritian Wildlife Fund, have been brought back from the brink and now exist in some numbers. This means that all the endemics can be seen fairly easily, but to save ourselves time and effort we decided to visit Ile aux Aigrettes for better views (www.mauritian-wildlife.org). This is a tiny island just offshore where a number of species have been re-located, and Aldabran Giant Tortoises drafted in to keep the vegetation at an optimum level for the species there. As well as birds there are three lizards and numerous insects and plants. As the island is easily reached by boat it attracts a number of tourists, plus bird tour groups from around the world. We decided on a private tour, which means your own guide. This is better for birding, since most of the locals only want to see the tortoises, but rather expensive. You would probably see the three endemic birds with the general group, but they keep on the move. Being able to stop and wait was a great bonus and enabled me to photograph both Mauritius Fody and Mauritius Green White-eye, as well as obviously Pink Pigeon. We also had good views of Ornate Day-Gecko and Telfair's Skink. In fact we didn't see the Fody elsewhere, although this was largely due to the fact that we didn't do any more than necessary due to my being unwell. On return to the mainland we investigated a small lagoon, which apparently attracts waders, but all we saw was a couple of Striated Herons in the mangroves. What was very strange was being on the coast and seeing hardly any gulls or terns. In fact the only birds which came close enough to even attempt to photograph were Lesser Noddies. A few White-tailed Tropicbirds were in evidence, as they breed on the island, in fact some breed on a cliff where the main coast road has been "hacked out" not far from the airport, but there's no chance of stopping.However, our hotel was on the edge of a lagoon. One morning I was having a wander, returning from an area of rocks on the beach, when I saw a bird flying over the lagoon. I thought at first it was a tern fishing in the shallows, but binoculars revealed a Pterodroma! I didn't get a good view but I am convinced it was a Barau's Petrel. I couldn't have ticked it but it bode well for our visit to Reunion. I later found out that a few pairs are suspected of breeding in the high mountains of Mauritius, but this has never been proven.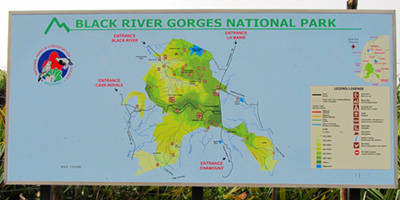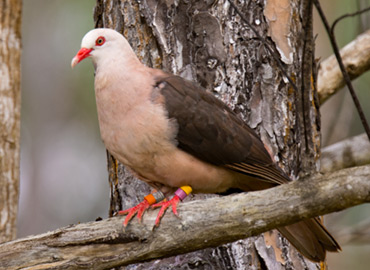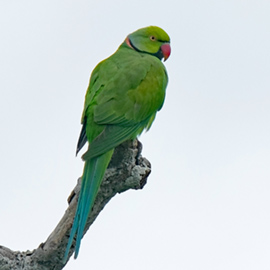 On our return we decided to visit La Vallee de Ferney, as it was close by and is the easiest place to see Mauritius Kestrel. However because this entails a "shuttle" which visits the Kestrel feeding area we arrived too late, and whilst we could have spent time in the area on foot elected to return later in the week. More of this anon. We returned to our hotel to relax before the Fruit Bat display and evening meal. The following day we decided to visit the famous Black River Gorges, where all the endemics may be found. This covers a large area, but we only visited the Maccabbee Trail, which runs from the visitor centre, since I was still feeling unwell. The main target here was the Echo Parakeet, another recovering species. There were dire warnings in the field guide and elsewhere about the difficulty of distinguishing them from Ring-necked Parakeets, which are yet another alien introduction. In fact the habitat requirements differ, and I would doubt that Ringnecks occur there. Added to which the calls are quite distinctive and I was happy that all the birds I saw were Echo Parakeets. Some of these were flyovers and photography was proving difficult, but on the return journey a couple of birds proved quite obliging and I got some reasonable shots. I was just thinking about what to look for next when a Mauritius Cuckoo-Shrike flew in to the top of a tree and began singing. This left just the Kestrel to be accounted for, as we had seen a Mauritius Bulbul from the car park, and several disappeared in the undergrowth in front of us. The trail is quite an easy one but the vegetation quite variable, in some places quite thick and in others opening out to overlook a valley. It was here that White-tailed Tropicbirds flew distantly, but strangely no sign of any pigeons flying across. One of the trip reports I'd read mentioned biting flies, to the extent of causing a retreat, but we saw very few insects, even butterflies were scarce. Both white-eyes were seen along the trail, but moving rapidly through the vegetation, however I did manage a few shots of Mauritius Grey back near the visitor centre. As we approached the visitor centre on our return the sole staff member (a rather unhelpful french-speaking gentleman) was just locking up. Within a minute of his leaving, and no other people around, two Mauritius Pink Pigeons had appeared, which flew down to the path right in front of us seemingly to ingest grit. They were oblivious to us, perhaps the aforementioned gentleman used to frighten them off, as he seemed to not have much knowledge of birds, or more likely the birds had learnt when the locals went home. Talking of locals, there don't seem to be any birders on the island, and whilst there is ongoing education few local people have developed a specific interest in birds. If you want information you would be far better to find the local forest office (if there is one). Visitor centres, whilst interesting, are geared to the general public, which is obviously a good thing since if the numbers of recently critically endangered birds are to continue to grow they must have the support of local people. Anyway with one exception, the Paradise-Flycatcher, nothing is difficult to find.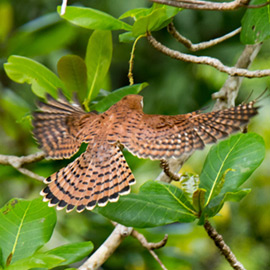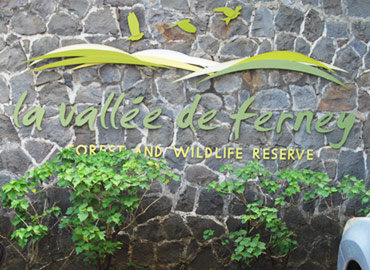 As we'd all but cleaned up we took the easy option for the Kestrel, and this time we arrived at La Vallee de Ferney in plenty of time for the feeding session. A large area, you are taken to the feeding area on a bus, whose suspension was never designed for the track it has to take, but apart from the bumpy ride that wasn't a problem. There are overnight cabins on the property, and it is possible to drive yourself from them, but a 4WD would be needed, especially if it's wet. Feeding is a quite simple matter of waving a mouse or bulbul in the air, which the Kestrel(s) will take, a la falconer's lure, and fly to a nearby branch to feed or pass to their mate. I hasten to add the bulbuls are the introduced red-whiskered, and not Mauritius Bulbuls! The birds are obviously habituated, which makes the whole thing seem a bit "plastic", but as hand feeding was one of the mainstays of the conservation activities it has a relevance, added to which you do get exceedingly good views, as Mr Kipling might say. The feeding is now performed primarily as a tourist attraction, since the population of Kestrels has expanded such that they can be found in various parts of the island, but it still undoubtedly helps, especially in the breeding season. In common with many "island" Kestrels, there is little difference between the male and female, but we decided the birds we saw were males, based on size. Although birds can be seen elsewhere, the only other sighting we had was a bird in flight whilst driving, although we would undoubtedly have seen them at Black River Gorges had we spent more time there. Other birds seen in the valley included distant White-billed Tropicbirds, Grey White-eyes, and more introductions, although there was a large area which remained unexplored. Mauritian Fruit-bats flew over in daylight occasionally, a habit found among many Fruit-bats throughout the world. Having seen all the endemics we spent our last day relaxing. Two additions to the list were House Crow and a Mauritian Tomb-bat, which despite its name isn't endemic. Mauritius has only three bats, size is a good way of separating them (since I'm no expert), but we were apparently quite lucky to see the Tomb-bat. Therefore all that remained was to locate the main reason for our journey, to which end we had booked an afternoon flight to Reunion for three days, together with hotel and car hire. (The flight is only about 45 minutes, so on our return we connected with our flight home without any need to leave the airport on Mauritius).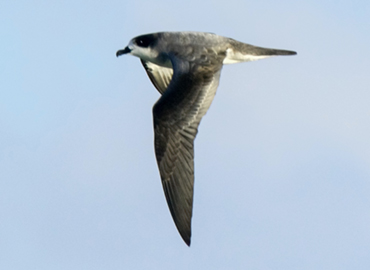 One problem I had found when researching this trip was that, whilst most trip reports mentioned Barau's Petrel, there seemed to be only one specific site at the mouth of the River, where birds gathered offshore in the afternoon prior to flying inland to their colonies in the mountains. Most trip reports from tour companies merely mentioned a special site in the south of the island, or some such. I suspected that birds could be seen from many places around the coastline, Reunion has no surrounding reefs like much of Mauritius, and the only important factor was to ensure that birds were visiting their colonies. Even in this information was vague, and as many books copy information from each other all I could really find was that "birds return to colonies from September". I guessed that our dates would be OK, especially as two or three tour companies visited around the beginning of October. Our flight to Reunion was fine, and we were quickly through customs and picking up our hire car. This can be a time consuming process on both islands, since they seem obsessed with every last scratch etc, and actually take several photos on mobile phones. On returning the car the assistant found a new mark and had to refer to the file of photos from 3 days previously. Unfortunately that part of the bodywork hadn't been photographed and even if it had I doubt the resolution on the phones they were using would have shown anything! Most hire companies stipulate they're not interested in minor scratches etc., and book cars back in electronically, but don't expect a fast service in this part of the world. The car itself was possibly the worst car I've ever hired (with the exception of the Twingo on Madeira), and was like driving something from the 1970's, although it wasn't very old and did the job of getting from one place to another. Distances aren't great on Reunion, so no matter. In common with many volcanic islands the majority of its road system follows the coastline, so having decided on a hotel in the south (the airport being in the north) our first couple of hours were spent negotiating surprisingly heavy traffic. The ocean to our right looked decidely empty but as seabird activity always increases towards the end of the day, and petrels normally only approach land when returning to their burrows we weren't too despondent.The hotel turned out to be excellent, very French (including the menu) and helpful staff. Having successfully parked the car in the basement car park I returned to our room and decided to have a quick look round before our evening meal. There was a central swimming pool and bar, passing by this led to the (semi-private) beach via a short flight of steps. Staying at the top afforded a view of the ocean, and I scanned briefly with my binoculars. I was more than happy when birds started to appear, and before long I had identified my first Barau's Petrels! After all the vague reports, and the little worries in the back of my mind, it was easy, and we discovered later one of the "sites" frequently mentioned, by the river estuary in a somewhat run-down area, was a few kilometres from the hotel, and could be seen in the distance. As an added bonus we also saw a couple of Mascarene Black Petrels, albeit distantly. Several reports mention this critically endangered seabird, all seemingly in the same area, personally I think their numbers may be higher than estimates suggest, although we did only see the two. Other seabirds passing included Wedge-tailed Shearwaters and Lesser Noddies, plus a few Tropical Shearwaters.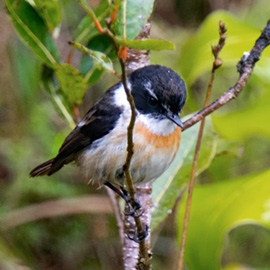 Having achieved the main purpose of our visit, we didn't try too hard for the other endemics, restricting our efforts to the last day of our short trip. To be fair had I been feeling fitter there was time to re-visit the area on the day of our departure, but conditions were no better. Basically there is only one site "listed" where it is possible to see all the endemics, but it is up in the mountainous region where it rains more frequently than not. I'm sure there must be other sites but I've not been able to find them, but if the weather is good and you put in the time you should find all the other endemics by driving to La Roche Ecrite, parking there and walking the trail. In the rain the trail was surprisingly full of walkers, so it could get crowded in good weather. Were I able I would have got there at dawn, which would also have helped with the weather, as it is frequently sunny in the mornings. Despite the conditions, I managed all the passerine endemics bar one, the Bulbul, although I heard plenty I only got a brief flight view of one disappearing in to the undergrowth. The most difficult, Reunion Cuckoo-shrike, is the subject of some conservation efforts, and I did get a brief view of a female. Reunion Stonechats were round the perimeter of the car park, and both White-eyes appeared at several places, especially Olive. On the way back a Mascarene Paradise-flycatcher appeared, they do look different to Mauritius birds, maybe a split there one day. The commonest bird was the Stonechat, at least three frequented the car park, and several were seen from the car driving up and down.There is only one non-passerine endemic, the recently split Reunion Harrier, which I didn't get a sniff of. I think the habitat has changed since the original source of information, Ian Sinclair's "Birds of the Indian Ocean" was written, although some tour groups do still score it's really a pot-luck job. Had I felt better I would have investigated other parts of the island, since the harriers are reputedly common, but it wasn't to be. We had achieved the main object of the exercise, to photograph Barau's Petrel, and returned home via Mauritius, an uneventful flight arriving the following day.